You are now reading the blog of an official freelancer. It's signed, sealed and delivered. The caffeine-fueled, hard-hitting life of a full-time reporter is something I am putting on the back burner for now.
Although I miss the energy of a newsroom, I am excited that I still get to do stories like this. That new restroom was a big accomplishment for this small Idaho town and gave the workers a much-needed boost after getting tangled in "Pavegate".
Anyway, enjoy!
McCammon workers donate time to build restrooms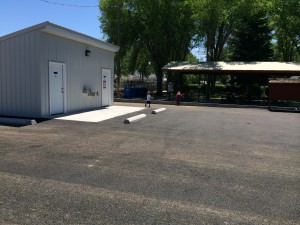 By Sarah Glenn For the Journal | Updated 
    MCCAMMON –– McCammon's Little Park needed restrooms so in their spare time two of the city's full-time employees built one.
    "It is a great asset to everyone who is there," McCammon Mayor Ken Bullock said.
    Wedged between the city's sun-drenched rodeo grounds and the shade-filled park, the restroom was built entirely by maintenance supervisors Rich Pierson and Jerry Mercer.
    "We had to kind of work on it when we didn't have anything else to take care of," Pierson said.
    On an average day the workers are responsible for mowing the lawns at McCammon's parks, working on the city's water and sewer lines, cleaning the streets and maintaining any city-owned property.
    "I'm really glad we did this," Mercer said.  "It was something that was needed for a long time."
    The land between the park and the rodeo grounds was purchased by the city more than seven years ago, when it held a ramshackle vacant home that had once belonged to McCammon's former city maintenance man. In the summer of 2013, the building was torn down. And in the evening hours, Pierson and Mercer tossed the building's rubble into rented roll-off Dumpsters.
    "It's been in the works for years," Pierson said. "We've just been saving up every year to have some handicap accessible restrooms available. We saved up for about three years before starting."
    McCammon's tax base consists of 850 people who usually commute to Pocatello or Soda Springs to work, play and spend their tax dollars, Bullock said.
    We are a small community with a small tax base," Pierson said. "If we can help out ourselves we try to do it."
    The restroom cost the city about $18,000 to build, Bullock said. This cost included paying Pocatello's Public Works Department for the price of materials to put in asphalt near its entrance.
    "It would have cost a lot more if the employees had not given their time," Bullock said. "We take a lot of pride in that."
    The city of about 350 households employs three full-time employees alongside its mayor: a city clerk and the two maintenance workers.
    Pierson says that among the staff there were some skills that were missing and some tasks had to be contracted out to local businesses, including the plumbing and electrical work.
    "It had to be up to state plumbing and electrical code so we hired that out," Pierson said. "We also hired a guy to pour the concrete slab."
    The balance of the work, including the framing, sheeting and installation of sinks, toilets, light fixtures and drinking fountains, was done by Pierson and Mercer.
    The job was finished in May, ahead of the Marsh Valley Pioneer Days Rodeo.
    "It was wall-to-wall people," Mercer said of the rodeo weekend.
    "It's a good feeling to say that I gave back and that I can point over there and say 'I built that,'" Pierson said.
    Now that the maintenance workers are finished with their project, they have added another item to their daily to-do list — cleaning the toilets every evening.
    "We are already talking with the mayor about installing a security system," Pierson said of the way that the restrooms have been dirtied recently.