NBC News said it best last week:
"In an increasingly virtual work world, an estimated one-third of U.S. workers — more than 42 million men and women — no longer report to traditional 9-to-5 jobs. Instead they belong to a growing freelance segment of the labor force, an often skilled class of career jugglers and independents who create mosaic incomes from contract gigs, projects, part-time jobs, temp work, moonlighting and consulting. This freelance nation fills the gaps that corporate America no longer wishes to cover with full-time salaried employees." ~ Link
Freelancing seemed the norm when I was abroad. I mean, what else are you going to do in a country that does not grant foreigners work visas? But back stateside, apparently the paradigm has shifted. I am tossed into a job market so battered by recession that employers would rather hire out projects piecemeal than pay a salary.
Not that I am complaining. Take a look at this report from Elance, a freelancing site I use regularly.
57%
of freelancers reported an increase in income this year over last.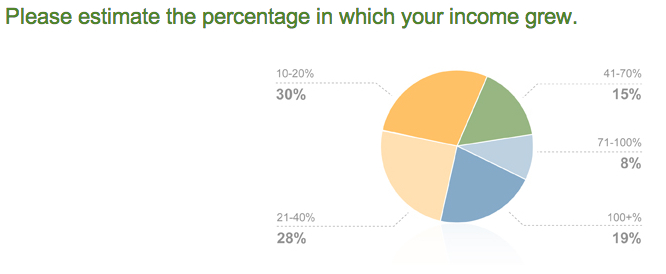 48%
of Elance users said they freelance as much as they can because it is their main source of income.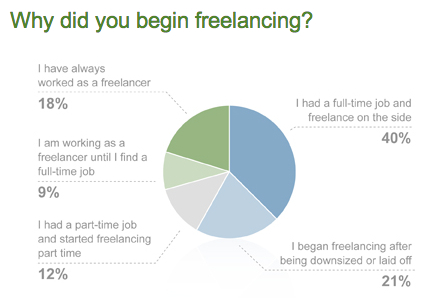 69%
said they were happier freelancing than they would be as a full-time employee.
But here is the kicker: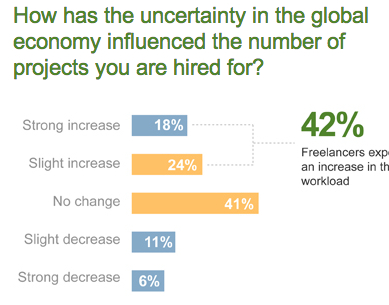 67%
of freelancers expected their income to increase next year. Of that percentage, most thought their income would increase anywhere from 10-40%. On Elance, the biggest growth appeared in the high-skilled computer programming industry with internet software companies growing their freelancer base by more than 125% just this last quarter.
I would be shocked if any numbers from the traditional job market followed these trends.